Comprehensive banking software
subsidized
European Regional Development Fund

Core bank information system, that covers an entire range of banking activities, including internet and analytical banking
Customer and account management.
Cash and treasury management.
Product definition.
Price list management.
Overdraft management.
Payments
Internal, domestic and cross-border payments;
Urgent payments;
Direct debit payments
Accounting and reporting
Balance sheet, profit and loss statement;
Real time open currency positions;
Liquidity and cash flow;
Interest and maturity gap reports.
Integration options
Integration into external systems and interfaces such as card-payment networks, central banks and authorization systems (mobile-ID)
multi-banking support
Customization for every bank in the system. Multi-currency, multi-lingual, multi-institutional support.
Automated workflow
Integration into business process management and supporting workflow systems such as dynamic reporting and risk management
In Estonia

99% of banking transactions are made by internet and other electronic channels
Internet application creates a respectful image of your bank in the eyes of your customers.
Therefore, it is essential that the environment of internet banking is convenient and simple to use for your clients.
It serves as a front-line communication tool which, if implemented professionally, will reduce the amount of manual labor as well as help you to provide flexibility and fast services to your customers.
Covered functionality:
Domestic and cross-border payments
Deposits management
Account and contract management
Loans and leasing applications
Account statements
Supporting
Built-in knowledge of business processes
Easy access
Easy access to banking services everywhere
Customer-friendly
Easy and customer-friendly online processing for end users
Highly customizable
Customization of the software to meet the needs of your business
Cash in bank
Reduced cash management, Keeps money in the bank
Communication channel
Communication channel between the bank and the customer
m-bank creates a respectful image of your bank in the eyes of your clients. Therefore, it is essential that the environment of mobile banking is convenient and simple to use for your clients. It serves as a front-line communication tool which, if implemented professionally, will reduce the amount of manual labor as well as help you to provide flexibility and fast services to your customers.
m-Bank BASIC
Branches and ATM-s
Currency list and rates
Currency calculator
Savings calculator
Contact (including A special part of this module is the Report a missing card feature)
News
Banners
m-Banking PLUS, includes STANDARD
GSM vouchers. View and buy GSM vouchers. Directly input the GSM vouher to your prepaid account (no need to type over the voucher activation code).
Funds. The Funds module takes care of supporting investment and pension funds.
Credit cards. This module enables the user to view credit card information, transaction per card information and general information for each card the user has.
Standing orders
Services. All additional services that the bank offers to clients can be activated or deactivated directly from the mobile phone.
m-Bank STANDARD, includes BASIC
Accounts and transactions
Chart displaying account movement
Transactions
Basic account information - account number, IBAN, authorized users, overdraft limit, etc..)
Payments. Create new payment orders, view payments, edit payment orders, delete payment orders, copy payment orders to new payment order or create a template from an existing payment order and similar actions.
Savings accounts management
Loans. View status of all loans and miscellaneous information related to a loan: amount, annuity, payment plan, interest rates etc.
Exchange office. Buying, selling and converting foreign currencies using all of the users available current or giro accounts.
Templates. Payment orders or internal payments can be stored for future use using the Templates module. If you do a lot of similar payments, this module can eliminate repetitive work.
Messages. The Messages module can be used as a simple communication tool between a bank and a client
Smart push
SmartPush is a product that adds the possibility of more interaction between the bank and the users.
System is able to push:
Notification regarding the account and transactions
Messages
News
Promotional messages
Smart stats
SmartStats is a component of the SmartBanking system that offers complete analysis related to the way users use SmartBanking on their mobile phone.
Data acquired from SmartStats can be used for making business decisions.
download counts per platform
usage trends
what modules are mos used
which actions users perform the most
technical details about the usage patterns
what mobile devices users use to access mobile Nanking
Additional features
Integrated update management system.


Mandatory update - if want to force all the users to update to a newer application version
Informational update - The user can choose by himself if he wants to perform an update
Update segmentation - particular parts of the application can be mandatory, while others don't need to be (i.e. a mandatory update for mobile banking, but non-mandatory for the basic part)
Manual update - The user can initialize an update process from the application manually

Remote configuration. Particular parameters can be configured from a remote location, which means that for changing some of the data (phone numbers, email addresses, refresh intervals) it is not necessary to publish a new release.
Branding. The visual style of a m-banking application can be completely personalized to fit the needs of your brand.
Demo mode. To achieve higher conversion rates, potential mobile banking customers can first try the mobile banking segment out by using the built in and convenient DEMO functionality.
Internationalization. All products support automatic localization and internationalization as well as manually changing the language via the Settings screen.
Helps to automate and simplify the core processes of a financial institution, the services of which include microcredits, loans or leasing.
MIND-xQ banking information system supports all business activities in the field, while at the same time offering high-level flexibility and customization to satisfy the most sophisticated business needs.
Automated processes
Customer management
Contract management
Credit decisioning
Debt monitoring
Payments management
Reporting
Integration with external parties
Sales channels
Vendors and partners
Insurance companies
Centralization
Multiple currency support
Multiple language support
Multiple institutions support
Security
Users are organized into groups and authorization levels. User access rights can be defined per functionality and actions.
Integration
Open architecture provides easy intergration with other internal or external systems.
Usability
System environment is designed with full consideration given to intuitive navigation.
Based on an "in-house banking" principle for governmental institutions and is responsible for managing and supervising the spending process of the state budget.
The system covers the functionality necessary for dealing with money transactions between governmental institutions within the system and external institutions through commercial banks.
Payments, direct debit payments, and short-term payments.

Payments within the limits of received payments or the state budget.

The system handles also patch files of payments

Money reservation / booking.

Organizations book the amount of money for payments

Administration.

Management of organizations, users, virtual accounts and classificators

Reporting.

Overview of different activities and statuses in the system.


Multi-currency support

Stock exchange monitoring and transactions

Loans and credit cards.

Organizations can receive loans and pay them off with interest
Security
Users' groups and authorization levels. Secure access to specific activities and functionalities.
Usability
The system environment is designed with full consideration given to intuitive navigation.
Flexibility
Integration into external systems like central bank, state budget, financial accounting and other.
THE CLEARING AND SETTLEMENT SYSTEM (DNS) for central banks has been developed to handle the clearing and settlement of domestic interbank money transactions.
A user-friendly GUI is accessing application data through application server hence making the system fast. Our running implementation at the Bank of Estonia is one of the fastest clearing systems in Europe.
Obligations between members are set off against each other.
Each transaction is settled individually.
The application server component places payment orders initially in a queue and processes them later at the value date of a payment order.
All payment types
The system supports both urgent and normal payments, as well as cross-border payments
Integration options
The payments can be received from different types of clients - commercial banks, state banks, depositories, etc.
Usability
A user-friendly graphical user interface accesses application data through application server, hence making the system fast.
Current users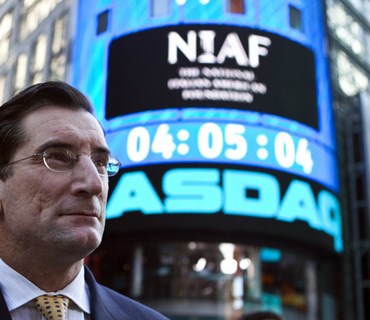 NASDAQ OMX Group
The NASDAQ OMX Group, Inc. is the world's largest exchange company. It delivers trading, exchange technology and public company services across six continents, with approximately 3,600 listed companies
Danske Bank
The Danske Bank Group, headquartered in Copenhagen, is the largest bank in Denmark and one of the leading financial enterprises in northern Europe.
SEB Banking Group
Skandinaviska Enskilda Banken AB is a Swedish financial group for corporate customers, institutions and private individuals with headquarters in Stockholm, Sweden.